8 Gift Ideas for Sober Friends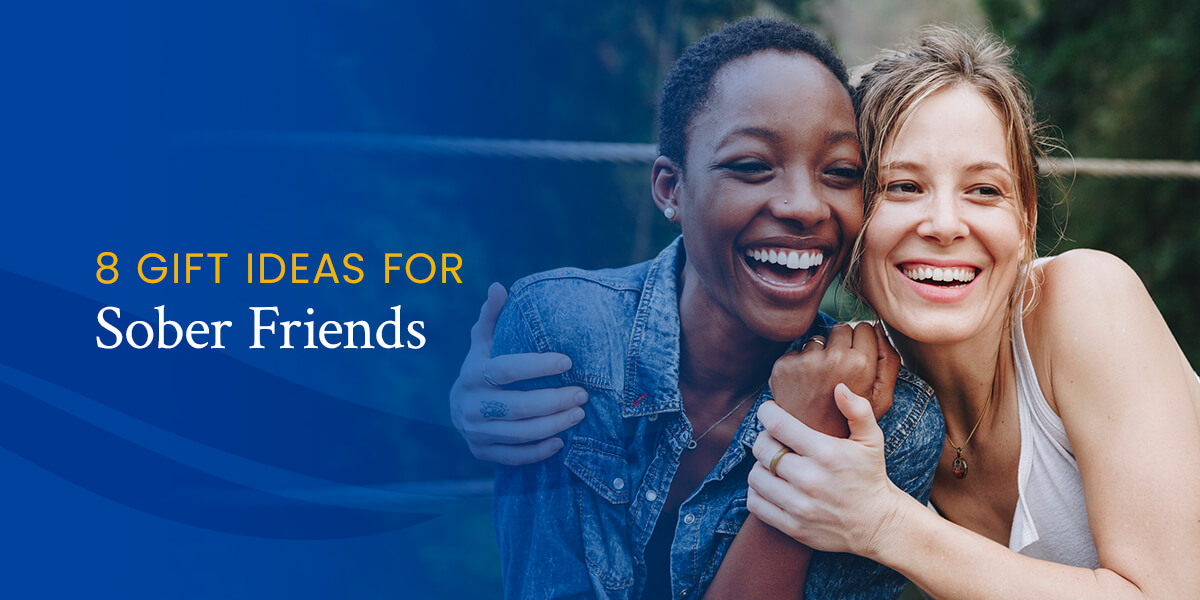 Sobriety gifts are an excellent way to honor a loved one who has worked hard on their recovery. If you've supported a friend or family member through this journey, you're probably excited to celebrate their sobriety. You might try personalized gifts with their sobriety date or tickets to see their favorite band in concert. Even a book of positive affirmations can celebrate this milestone and reward their perseverance.
While you know your loved one best, learn how to support a friend in recovery with these sober anniversary gift ideas.
What are Sobriety Gifts?
A sobriety gift is a kind gesture to honor the strength and dedication it takes to maintain sobriety after undergoing treatment. Recovering from substance use disorder or any behavioral addiction is no easy feat. Celebrating your friend or family member's sober anniversary date shows your appreciation for their accomplishment and empowers them in their ongoing efforts to stay sober.
Like any anniversary gift, sobriety gifts are meant to celebrate a sober anniversary, whether it's a year of sobriety or 10 years. Recovery happens one day at a time, and a gift pays tribute to this fact. You'll know what your loved one will like best. But a customized memento with their sobriety date or a present related to the hobbies they gained in recovery can honor their accomplishment.
Just like any anniversary gift, a sobriety gift celebrates a sobriety anniversary–perhaps a year of sobriety or 5 years or 10. Recovery happens one day at a time, and a gift pays tribute to this fact. What you choose as a sobriety gift depends on the person you are celebrating, but it could be a personalized memento with their sobriety date or something related to their hobbies or something in their life they gained in recovery.
Personalized Sobriety Gift Suggestions
There are endless possibilities of gifts you could give your loved one to honor their sobriety. For inspiration, here's a list of ideas to help you narrow it down. Remember, the best gift idea is one that is thoughtful and comes from the heart!
1. Customized Sobriety Memento
A popular sobriety gift is a personalized memento that celebrates your loved one's sobriety. You might try a key chain, sober card, mug or framed picture. Any small token that can be inscribed with your loved one's sobriety date is thoughtful. These mementos honor your loved one while reminding them daily of their achievement. Reminders of all they can gain from sobriety help your loved one in recovery focus on their accomplishments.
You can find several customized gifts online, from greeting cards to mugs, keychains and more.
2. Book of Daily Affirmations
In keeping with the 12-Step philosophy of "one day at a time," another thoughtful sober anniversary gift could be a book of daily affirmations. Help your friend or family member get up each day and live with inspiration by gifting them a book of daily affirmations. These positive notions can uplift them when they are having a hard time or encourage them to keep going strong in their sobriety. Daily reminders to stay present, build confidence and think positively can be a great way to support a friend in recovery.
3. A Personalized Journal
Another sobriety gift idea to honor your loved one's recovery from addiction is a personalized journal. Journaling can be therapeutic and help on tough days when emotions and memories need space to be processed. A journal can also be a place to document positive life changes and practice gratitude on a daily basis in writing. If your loved one enjoys creative expression through writing, a journal with their name on the cover or a personalized message — their favorite quote or saying — is the perfect sobriety gift!
4. Sobriety Calendar
Create a sobriety calendar for your loved one's first year in recovery — or any year! Use a web printing platform to upload pictures for each month of the calendar. This way, they can count each day of their sobriety, track progress and celebrate milestones.
The fantastic thing about a custom calendar is that you can choose memories that are dear to your loved one to include for each month. Incorporate pictures of their children, beloved pets, trips with friends or their wedding day. These cherished moments can serve as visual reminders of the rich, loving life they have in recovery.
5. Creative Classes and Supplies
Having a creative outlet during recovery can be a key tool for managing stress and emotions. Creative classes or supplies like paints, an instrument, a camera, a crochet kit or whatever appeals to your loved one could be a wonderful gift.
You could buy dance classes, guitar lessons, an intro to photography course or whatever artistic outlet they favor either online or from a local business. Alternatively, if your loved one is more of a self-directed learner or already has a creative hobby, you could stock their art supplies, buy film or a new camera lens, upgrade their sound system or what have you!
6. Take a Weekend Getaway
Another nice sobriety gift could be a fun trip or weekend getaway. A vacation is a sober gift suited for people who no longer need the consistent structure of addiction treatment's beginning stages. Once a person has made it through those first few weeks, months or years, or is following an aftercare program, a getaway can be a fun way to honor their hard work.
Plan a camping trip to a national park if they're outdoorsy or a beach getaway for those who prefer a laid-back vacation. Just remember to do the research to determine there are no triggers in these settings. For instance, if a resort advertises a poolside bar or a hotel includes a rooftop bar, it's probably best to choose a different place.
7. Houseplants
As people recover and can resume the responsibilities of daily life that may have fallen to the wayside, it can be a confidence booster to start taking care of things — like houseplants — again! You could even make it a tradition. Every month, half-year or year of sobriety, buy another little houseplant for your loved one to fill their home with nature.
Most plants need daily attention. So, they're a nice, subtle way to help those in recovery connect with nature and their nurturing selves. Your loved one can enjoy caring for an orchid, fern, succulent or another houseplant, depending on their preference. Bringing nature indoors also creates a soothing environment, making plants a multi-faceted sobriety gift.
Be sure to offer care instructions and let your friend or family member know that it's OK if the plant doesn't make it — everything requires practice!
You might find houseplants online or visit a local garden store to find the perfect gifts for sober friends.
8. Supporting Other Personal or Professional Goals
Supporting personal or professional goals is another sobriety gift for a major milestone. Gift something for the first year, five years, ten years or whatever timing feels significant for you and your loved one. This could mean buying your friend a new suit for a job interview, new clothes for their new life in sobriety, furniture for an apartment or anything you can think of that would help them in their life.
You might also support your friend's main interests. Get them a jersey of their favorite player, tickets for their favorite band, a new bike or whatever they love! Give something that helps your loved one to move ahead and enjoy all they have gained in their sobriety.
---
Meet Your Recovery Goals at DreamLife Recovery
Recovering from addiction is challenging and is a process that requires effort every day. There's no gift too large or too small to show your support for a loved one's dedication to sobriety. Whether you're celebrating one month, one year or one decade of sobriety, recognizing your friend or family member's successes shows your love and support.
If you or a loved one needs assistance, the addiction experts at DreamLife Recovery can help. We're located just outside of Pittsburgh, Pennsylvania, and are ready to help you get on the reliable and proven path to recovery. Contact our admissions team if you'd like to know more about our treatments, facility, and get ready to get your dream life.